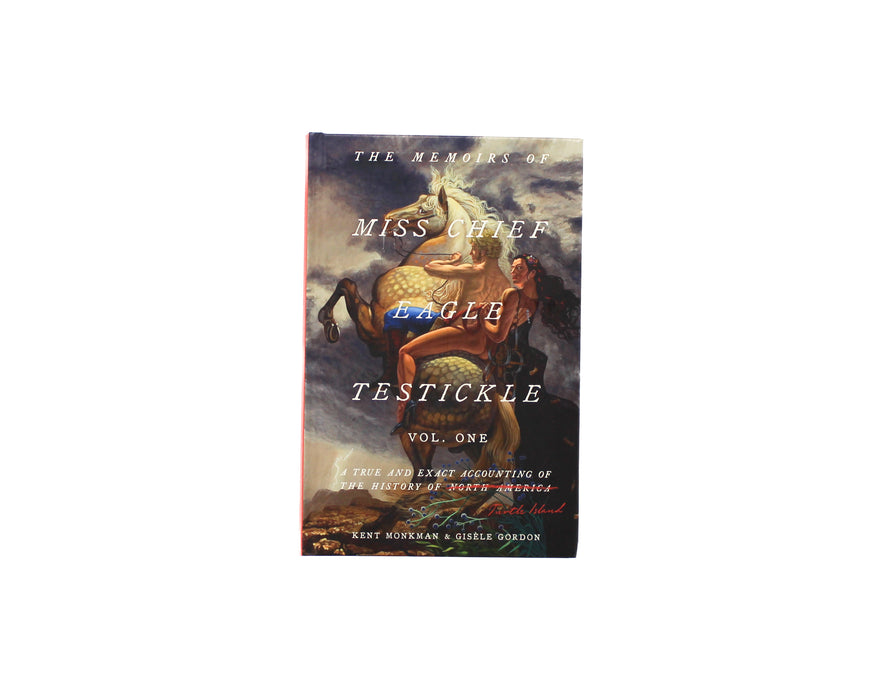 The Memoirs of Miss Chief Eagle Testickle: Vol. 1
Original price
$37.00
-
Original price
$37.00
From global art superstar Kent Monkman and his long-time collaborator Gisèle Gordon, a transformational work of true stories and imagined history that will remake readers' understanding of the land called North America.

For decades, the singular and provocative paintings by Cree artist Kent Monkman have featured a recurring character—an alter ego of sorts, a shape-shifting, time-travelling elemental being named Miss Chief Eagle Testickle. Though we have glimpsed her across the years in films and on countless canvases, it is finally time to hear her story, in her own words. And, in doing so, to hear the whole history of Turtle Island anew. The Memoirs of Miss Chief Eagle Testickle: A True and Exact Accounting of the History of Turtle Island is a genre-demolishing work of genius, the imagined history of a legendary figure through which profound truths emerge—a deeply Cree and gloriously queer understanding of our shared world, its past, its present, and its possibilities.
Volume One, which covers the period from the creation of the universe to the confederation of Canada, follows Miss Chief as she moves through time, from a complex lived experience of Cree cosmology to the arrival of European settlers, many of whom will be familiar to students of history. An open-hearted being, she tries to live among those settlers, and guide them to a deeper understanding of the interconnectedness of all beings and the world itself. As their numbers grow, though, so does conflict, and Miss Chief begins to understand that the challenges posed by the hordes of newly arrived Europeans will mean ever greater danger for her, her people, and, by extension, all of the world she cherishes.
Blending history, fiction, and memoir in bold new ways, The Memoirs of Miss Chief Eagle Testickle are unlike anything published before. And in their power to reshape our shared understanding, they promise to change the way we see everything that lies ahead.
264 pages, hardcover
Publisher: McClelland & Stewart, November 2023
KENT MONKMAN is an interdisciplinary Cree visual artist. A member of Fisher River Cree Nation in Treaty 5 Territory (Manitoba, Canada), he lives and works in Dish With One Spoon Territory (Toronto, Canada). Monkman's gender-fluid alter ego Miss Chief Eagle Testickle often appears in his work as a time-travelling, shape-shifting, supernatural being who reverses the colonial gaze to challenge received notions of history and Indigenous peoples. His painting and installation works are held in the public collections of institutions such as the Metropolitan Museum of Art; Denver Art Museum; Hirshhorn Museum; National Gallery of Canada; Musée des beaux-arts de Montréal; Art Gallery of Ontario; and La maison rouge, Paris.

GISÈLE GORDON is a settler media artist and writer based in Dish With One Spoon Territory (Toronto, Canada). Her solo work includes the feature-length documentary The Tunguska Project (Best Feature Length Film at the Planet in Focus Film Festival, 2005), the video installations Crosscurrent (2013 Moscow Biennale), and projection/performance piece The Land that Dreams.