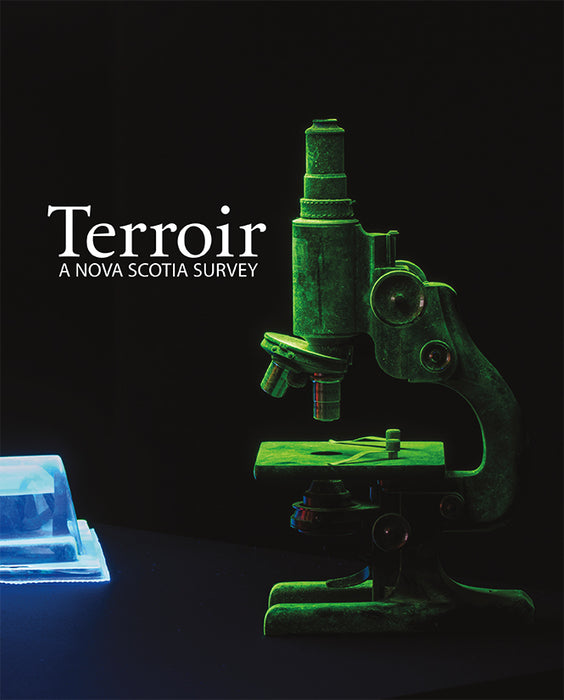 Terroir: A Nova Scotia Survey
Original price
$38.00
-
Original price
$38.00
Curators: David Diviney, Curator of Modern and Contemporary Art, Art Gallery of Nova Scotia, Bruce Johnson, Independent Curator, and Sarah Fillmore, Chief Curator, Art Gallery of Nova Scotia
Borrowing heavily from the language of wine, this three-part exhibition will look at regional artistic production through the culture from which it emerges. The word "terroir" refers to the complete natural environment in which a particular wine is produced, including factors such as the soil, topography, and climate. 
192 pages, hardcover
Published: Art Gallery of Nova Scotia (2016)
9 x 11 in

Terroir: a Nova Scotia Survey presents works by 29 artists working in the province, mining its history and culture, and offering a diversity of production.
Wayne Boucher
Mark Bovey
Carly Butler
Matthew Collins
Melanie Colosimo
Frances Dorsey
Denise Dumas
Margarita Fainshtein
Steve Farmer
Lorraine Field
Angela Glanzmann
Ursula Johnson
Laura Kenney
Janice Leonard
Anne Macmillan
John Macnab
Dawn MacNutt
Sarah Maloney
John Mathews
Ben Mosher
Jaye Ouellette
Susan Paterson
Amanda Rhodenizer
Steven Rhude
Kent Senecal
David Stephens
Susan Tooke
Christopher Webb
Charley Young