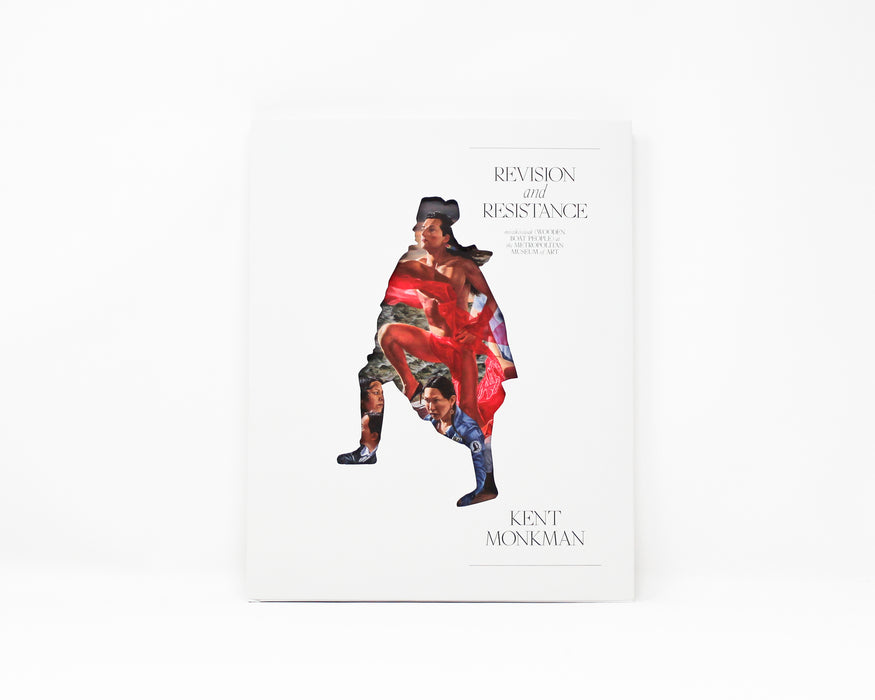 Revision and Resistance: Kent Monkman and mistikôsiwak (Wooden Boat People) at The Metropolitan Museum of Art
Original price
$38.00
-
Original price
$38.00
Kent Monkman (b. 1965) is Canada's most important and influential contemporary artist. His epic diptych commission for the Metropolitan Museum of Art's Great Hall is a historic moment, both for Monkman's career and for spotlighting Indigenous and Canadian art on the international stage. A Cree two-spirited artist, Monkman confronts themes of colonization, sexuality, loss, and resilience. Referencing iconic artworks in the Met's permanent collection mistikôsiwak (Wooden Boat People) challenges the flawed representations of Indigenous peoples that exist in many museums and galleries. Contributions include interviews and essays by Dr. Sasha Suda, Director and CEO of the National Gallery of Canada; professors and art historians Dr. Ruth B. Phillips and Dr. Mark Salber Phillips; Dr. Jami Powell, Associate Curator of Native American Art at the Hood Museum; Shirley Madill, Executive Director at the Kitchener-Waterloo Art Gallery; and author and professor Dr. Nick Estes.

130 pages, Hardcover
Art Canada Institute, 2020
About the Authors
SHIRLEY MADILL is the executive director of the Kitchener-Waterloo Art Gallery. She has held curatorial and director positions at the Winnipeg Art Gallery, the Art Gallery of Hamilton, the Art Gallery of Greater Victoria, and Rodman Hall Art Centre at Brock University in St. Catharines. JAMI C. POWELL is the Hood Museum of Art's first associate curator of Native American art and was recently appointed as a lecturer in Native American Studies at Dartmouth. Powell is a citizen of the Osage Nation and has a PhD in anthropology from the University of North Carolina at Chapel Hill. Powel's research examines the representations of Indigenous peoples in museums as well as the interventions contemporary Indigenous artists make through creative acts of self-representation.
RUTH B. PHILLIPS is Canada Research Chair in Modern Culture and professor of Art History at Carleton University and has served as director of the Museum of Anthropology at UBC in Vancouver. She is a specialist in the Indigenous arts of North America and critical museology, and her recent publications include, Museum Pieces: Toward the Indigenization of Canadian Museums; Native North American Art (2nd edition) with Janet Catherine Berlo; and Mapping Modernisms: Art, Indigeneity, Colonialism, co-edited with Elizabeth Harney.
MARK SALBER PHILLIPS, professor emeritus of History at Carleton University, is a specialist in the history of ideas. Among his publications are The Memoir of Marco Parenti: A Life in Medici Florence (1987); Society and Sentiment: Genres of Historical Writing, 1740-1820 (2000); and What Was History Painting and What is it Now? (2019), co-edited with Jordan Bear. His 2013 book On Historical Distance was awarded the Canadian Historical Association's Ferguson prize.
SASHA SUDA studied at Princeton University, Williams College and completed her PhD in Art History at New York University. Throughout her career, she has held positions at the Metropolitan Museum of Art in New York and the Art Gallery of Ontario in her native Toronto. She is now the director and CEO of the National Gallery of Canada, where she seeks to inspire Canadians through the art of the national collection.
NICK ESTES is a citizen of the Lower Brule Sioux Tribe. He is an assistant professor in American Studies at the University of New Mexico. In 2014, he co-founded The Red Nation, an Indigenous resistance organization. Estes is the author of the book Our History Is the Future: Standing Rock Versus the Dakota Access Pipeline, and the Long Tradition of Indigenous Resistance (Verso, 2019).
AARON WYNIA is a photographer based in Toronto. He is internationally recognized for his youth-inspired portraiture and regularly collaborates with clients and brands in music, fashion, and culture.