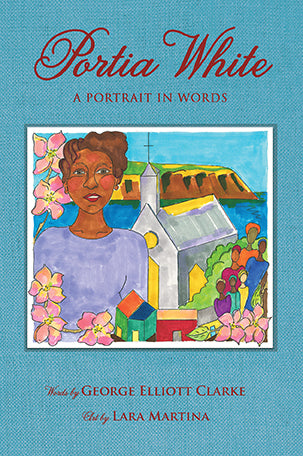 Portia White: A Portrait in Words by George Elliott Clarke & Illustrated by Lara Martina
Original price
$17.00
-
Original price
$17.00
I take
Liberties—poetic—and take
License to relate her story
In her voice, to tell History
Who she was—as I hear her say
Or sing.
[…]
But still you will come face-to-face
With a "Portia," whose life outshines
All brilliance this black ink divines….
In his unique brand of spoken word, Africadian poetry, the incomparable George Elliott Clarke explores a personal subject: his great-aunt Portia White. The result is a stirring, epic poem vibrating with energy and music that spans White's birth in 1911, a coming of age amidst the backdrop of two World Wars, and her life-long love affair with music—from singing in to directing the Cornwallis Street Baptist Church choir to her bel canto tutlege at the Halifax Conservatory of Music to her final, command performance before Her Majesty Queen Elizabeth II in 1964.
Portia White is a stunning testament to the first African Canadian to become an international star. Features vibrant illustrations by contemporary artist Lara Martina.
Dr. George Elliott Clarke, O.C., O.N.S., Ph.D., is a native of Windsor, Nova Scotia, and is the Poet Laureate of Toronto, Ontario, where he teaches Canadian literature at the University of Toronto. His prize-winning books comprise poetry—Whylah Falls (1990), Execution Poems (2000), and Blues and Bliss (2008)—and a novel, George & Rue (2004). His daughter, Aurelia, has shortened "Papa" to "Pup," which is his most cherished title.
Lara Martina is one of Nova Scotia's contemporary landscape artists, a writer, and illustrator. A Canadian of Mi'kmaw, French, and Italian heritage, she divides her time between Italy and Canada. Born in Chicopee Falls, Massachusetts in 1955, Martina was educated at NSCAD University, Mt, Saint Vincent University, and The European Graduate School. Martina's research interests include diaspora subjects of eastern Canada; space and time; issues of culture and identity; culture and tradition; history and landscape, and interpretation of cultural identity. Her work, both narrative and landscape, can be found in collections in North America and Europe.