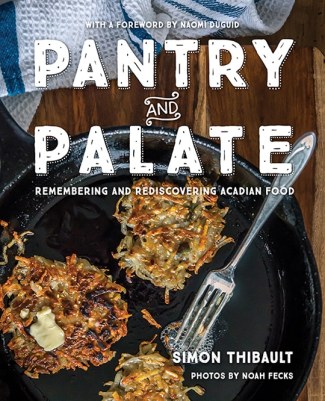 Pantry and Palate: Remembering and Rediscovering Acadian Food by Simon Thibault
Original price
$34.95
-
Original price
$34.95
In Pantry and Palate, journalist Simon Thibault explores his Acadian roots by scouring old family recipes, ladies' auxiliary cookbooks, and folk wisdom for 50 of the best-loved recipes of Acadians past and present. Recipes run the gamut from Acadian staples such as potato pancakes called Fring Frangs, Rappie Pie, Chicken Fricot, and various forms of meat pies; old-fashioned foodways, such as how to render your own lard, and make the most of out a pig's head; and sumptuous sweets take the form of Rhubarb Custard Pie or a simple Molasses Cake. Thibault not only discovers the past lives of his immediate and extended family, but their larders as well.
Including essays celebrating the stories behind the recipes, a foreword by bestselling author Naomi Duguid (Taste of Persia), and photos by noted food photographer Noah Fecks (The Up South Cookbook), Pantry and Palate is magnifique from page to plate.
Simon Thibault is a Halifax-based journalist and radio producer whose work focuses on food. His written work has been featured in The Globe and Mail and East Coast Living. He has contributed to CBC Radio, and The Southern Foodways Alliance's Gravy podcast. He was also a judge for the 2015 James Beard Foundation's Cookbook Awards. This is his first book.