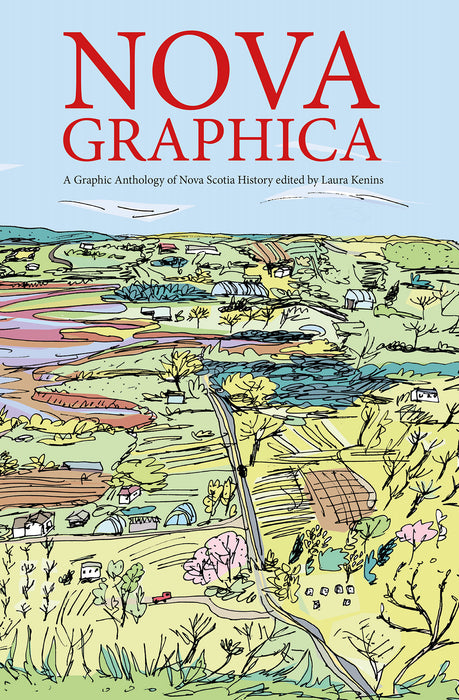 Nova Graphica: A Comic Anthology of Nova Scotia History by Laura Ķeniņš
Sold out
Original price
$20.00
-
Original price
$20.00
The fiddle-free side of Nova Scotia history
More than the stereotypes of lobsters and fiddles, Canada's "ocean playground" of Nova Scotia boasts a vibrant history of ghost stories, folklore, industry, politics, and vibrant Black, Indigenous, LGBTQ and immigrant communities. Home or formerly home to some of Canada's biggest names in comics over the past decades, this anthology brings together 15 artists, making Nova Scotia's history come to life through a collection of graphic stories that are spooky, funny and thought-provoking.
Nova Scotia and the Maritimes are usually neglected in the study of Canadian history. This anthology will bring offbeat stories from across the province to light in a fun, engaging and irreverent manner. Presenting Nova Scotia history in a graphic format and unique stories that aren't taught in schools, this book will be an approachable, readable collection that appeals to readers of comics and non-fiction alike.
Contributors include: Emma Fitzgerald, Sara Spike, Rebecca Roher, Paul Hammond, Colleen MacIsaac, Kris Bertin and Alexander Forbes, Sarah Mangle, JJ Steeves, Laura Ķeniņš, Sarah Thunder and Vanessa Lent, Rebecca Thomas and Rachel Hill, Jordyn Bochon, Veronica Post, and Donald Calabrese.
About Laura Ķeniņš
Laura Ķeniņš is a comic artist and writer who has lived in Halifax, Latvia and Hungary and is currently based in Toronto. She is the author of Steam Clean (Retrofit Comics) and Alien Beings (kuš! comics, a Doug Wright Award nominee). Her short work has been published in kuš! comics, Kuti Magazine Truthout, The Los Angeles Review of Books, Matrix Magazine and other publications and exhibited across Europe and Canada. Laura has written on arts, culture and other subjects for print and online publications in Canada and Europe including CBC, The Globe & Mail, Quill & Quire, TVO, Now, and others, and was a longtime contributor and copy editor at Halifax's The Coast.