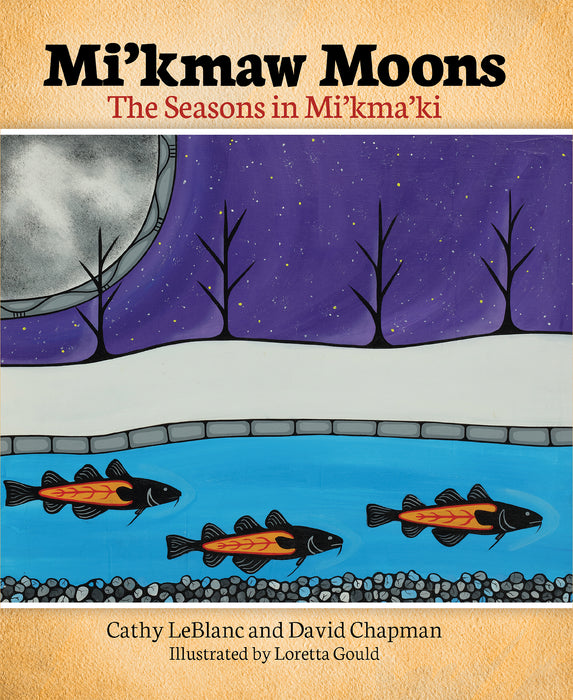 Mi'kmaw Moons: The Seasons in Mi'kma'ki by Cathy LeBlanc and David Chapman. Illustrated by Loretta Gould
Sold out
Original price
$24.95
-
Original price
$24.95
Mi'kmaw Moons
The Seasons in Mi'kma'ki
Traditional teachings about the moon cycles and their relation to the natural history of Mi'kma'ki on Canada's East Coast
"In their debut book, Cathy LeBlanc and Dave Chapman guide readers through a year in Mi'kma'ki... Mi'kmaw painter Loretta Gould complements the conversational text with playful and evocative art." — Our Children
For thousands of years, the Mi'kmaq have been closely observing the natural world and the cycles of the moon and the stars to track the passage of time. Each full moon in an annual cycle was named by the Mi'kmaq to relate to a seasonal event, such as tomcod spawning, birds laying eggs or berry ripening.
For the past decade Mi'kmaw Elders and Knowledge Keepers have shared stories of the traditional night sky calendar with authors Cathy LeBlanc and David Chapman. In this book Cathy relays this knowledge in stories told to her young relation Holly.
Each moon's story is richly illustrated with an evocative colour painting created for this book by the noted Mi'kmaw artist Loretta Gould.
Alongside this presentation of the Mi'kmaw time-keeping traditions, this book offers a brief history of the modern Western calendar, and some basic astronomy facts about the moon's phases and why the seasons change.
This two-eyed seeing approach takes young readers on a journey through one full year in Mi'kma'ki.
Imprint:

 

Formac Publishing Company Limited
Publication Date:

 

1 November 2022
Copyright Year:

 

2022
ISBN:

 

9781459507036
Page Count:

 

56
Dimensions:

 

11" x 9"
Cathy Jean LeBlanc is a member of Acadia First Nation and a graduate of St. Thomas University. She is a Mi'kmaw cultural interpreter and Student Support Worker for Indigenous and African Nova Scotian youth. She lives in Bridgewater, Nova Scotia. 
David Chapman is a physicist who worked for 31 years for the federal government. He is a life member of the Royal Astronomical Society of Canada and was the editor of the RASC Observer's Handbook (2012–2016 editions). He is a lifetime amateur astronomer. He lives in Dartmouth, Nova Scotia.
Loretta Gould is a Mi'kmaw painter and quilter who loves bright, beautiful colours. A self-taught artist, she grew up in Waycobah First Nation and started painting in earnest in 2013. Her works have sold around the world. She is represented by the DaVic Gallery in BC and the Bay of Spirits Gallery in Toronto. She lives in Cape Breton, Nova Scotia.