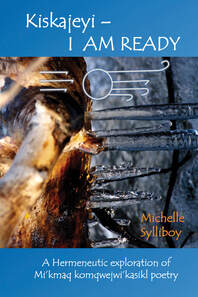 Kiskajeyi: I AM READY
Original price
$19.99
-
Original price
$19.99
Indigenous artist and writer, Michelle Sylliboy blends her modern poetry, photography, and Mi'kmaq (L'nuk) ​hieroglyphic poetry in this unprecedented book. Kiskajeyi was edited by Michael Calvert with publication timed to coincide with the 2019 Year of Indigenous Languages.
​​The International Year of Indigenous Languages is a United Nations observance in 2019 that aims to raise awareness of the consequences of the endangerment of Indigenous languages across the world, with an aim to establish a link between language, development, peace, and reconciliation.
"The photographs in this book are a recognition of land and how the Komqwejwi'kasikl language comes from the land. The importance of saving our water and our lands in the time of resource extraction is critical." - Michelle Sylliboy
76 pages
Paperback
Dimensions: 6 in x 9 in
Winner of the 2020 Indigenous Voices Award (IVAs) in the category of Published Poetry (English category)
Author/Artist Bio:
Michelle Sylliboy, an L'nu (Mi'kmaq) artist/author, was born in Boston, Massachusetts, and raised on unceded territory in We'koqmaq, Cape Breton, Nova Scotia. Arriving on the art scene in 1995, her interdisciplinary art practice embodies some of her own life experiences which has led her to work with emerging and professional artists from all over Turtle Island. Michelle recently moved back to her territory after living and working on unceded Coast Salish territory for twenty-seven years. While in Vancouver, she learned to capture and intrigue
the art community with her interdisciplinary style of work. She gathers much of her inspiration from personal tales, the environment, and her L'nuk culture. PhD Candidate, Michelle is working on her Philosophy of Education Doctorate Degree fieldwork where she will combine her artistic background and education by creating a L'nuk Komqwejwi'kasikl (Hieroglyphic) curriculum with L'nuk teachers and Elders in Cape Breton.
Editor:  ​
Michael Calvert is a member of the Mid-Island Metis Nation. His publishing credits include the anthology, In Our Own Aboriginal Voice (1st vol.), and Portal literary magazine. Michael won the Pat Bevan Award for fiction writing in 2012 and a Meadowlarks Award for a promising body of fiction work. In 2019, he was also the editor of the anthology In Our Own Aboriginal Voice 2. Michael, a graduate of VIU's Creative Writing and Journalism program and SFU Masters of Publishing, lives in Nanaimo, BC and currently teaches at Vancouver Island University. He has taught in the Creative Writing & Journalism department and currently teaches First Peoples Literature and Composition at VIU.