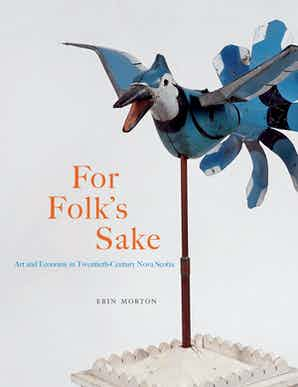 For Folk's Sake: Art and Economy in Twentieth-Century Nova Scotia by Erin Morton
Original price
$44.95
-
Original price
$44.95
A radical re-examination of art in Nova Scotia and the place of folk art in the cultural hierarchy of the twentieth century. Folk art emerged in twentieth-century Nova Scotia not as an accident of history, but in tandem with cultural policy developments that shaped art institutions across the province between 1967 and 1997. For Folk's Sake charts how woodcarvings and paintings by well-known and obscure self-taught makers - and their connection to handwork, local history, and place - fed the public's nostalgia for a simpler past. The folk artists examined here range from the well-known self-taught painter Maud Lewis to the relatively anonymous woodcarvers Charles Atkinson, Ralph Boutilier, Collins Eisenhauer, and Clarence Mooers. These artists are connected by the ways in which their work fascinated those active in the contemporary Canadian art world at a time when modernism – and the art market that once sustained it – had reached a crisis. As folk art entered the public collection of the Art Gallery of Nova Scotia and the private collections of professors at the Nova Scotia College of Art and Design, it evolved under the direction of collectors and curators who sought it out according to a particular modernist aesthetic language. Morton engages national and transnational developments that helped to shape ideas about folk art to show how a conceptual category took material form. Generously illustrated, For Folk's Sake interrogates the emotive pull of folk art and reconstructs the relationships that emerged between relatively impoverished self-taught artists, a new brand of middle-class collector, and academically trained professors and curators in Nova Scotia's most important art institutions.

Erin Morton is an associate professor of visual culture in the Department of History at the University of New Brunswick.
424 Pages, 76 photos, full colour throughout, paperback, 75"x97"
Published by: McGill-Queen's University Press