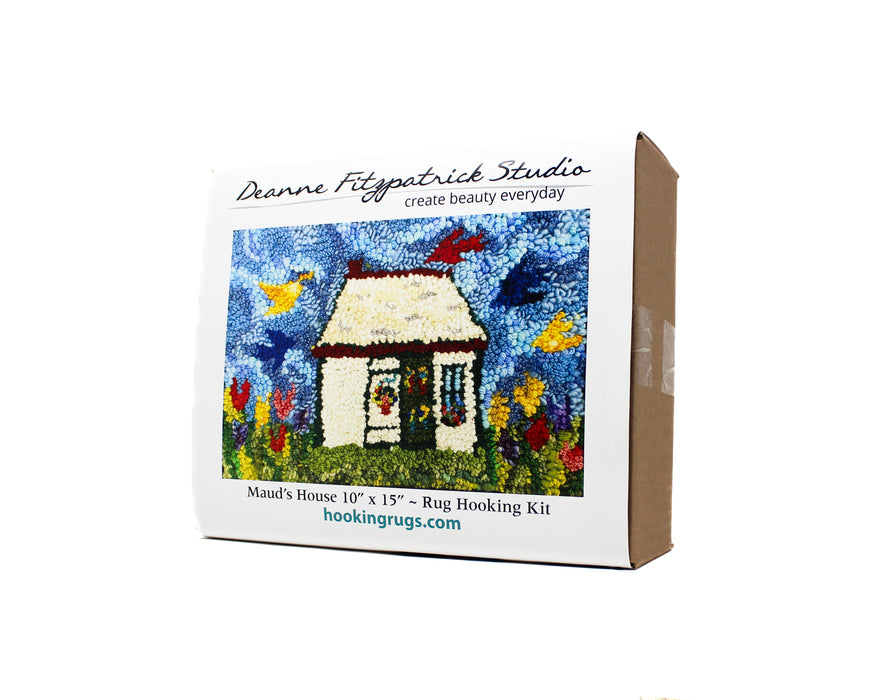 Deanne Fitzpatrick Studio - Maud Lewis Painted House Rug Hooking Kit 10"x 15"
Original price
$105.00
-
Original price
$105.00
"When you live in Nova Scotia, you may know someone or someone's mother or grandmother who used to visit Maud Lewis in rural Digby County and buy her paintings on the side of the road for $5. It is an iconic story that grew out of her meteoric rise in the art world and the increased value in her work. It is a good story. I think though, to focus on that story is to forget the real story of Maud Lewis. She was a woman who, when faced with difficulty and harshness, continued to see the beauty in the world around her. She painted the flowers, the birds, the oxen, the horses, the houses and the people in her world with tenderness and love. When I look at Maud's work I feel she must have had a deep well of kindness within her. And I believe, like many maritime women, she did the very best she could with what she had. That to me is her real success. When I visited her house at the Art Gallery, this is what I saw. She made the world around her beautiful in any way she could. Along with the hooked mats on her floor I saw this deep drive to paint, to make, to 'create beauty everyday' and it moved me. The story of Maud Lewis and her little house is a love story about art and creating. She showed up to paint in spite of everything and she made the world a little more tender and beautiful for all of us." ~ Deanne Fitzpatrick

Kit includes:
A hand drawn pattern on burlap.
All the wool cloth strips and textures you need to complete the kit.
A rug hook.
A colour key to tell you what colours go where.
A colour picture of the completed rug.
An illustrated set of instructions.
Please note this kit is handmade with hand-dyed wool cloth and textures so colours and textures will vary.
You may need to purchase a hoop or a rug hooking frame to stretch your pattern here. You can purchase our one hour lesson with Deanne here. 
Maud Lewis (1901-70) is one of Canada's most beloved folk artists. Born in Yarmouth, Nova Scotia, she spent her entire life in the surrounding area. When Lewis was a child, her mother encouraged her to paint Christmas cards depicting festive winter scenes which she sold door to door. Despite living with arthritis, her innate talent allowed her to paint vibrant scenes of rural Maritime life. Lewis' house, which served as her main canvas, is on permanent display at the Art Gallery of Nova Scotia.