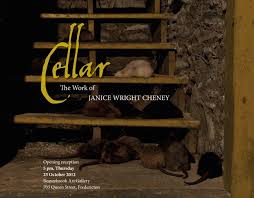 Cellar: The Work of Janice Wright Cheney
Original price
$19.95
-
Original price
$19.95
Hundreds of rats created from recycled vintage fur coats are taking over the Gallery's fourth floor – and we are equally thrilled and unsettled. Fredericton-based artist Janice Wright Cheney's installation Cellar will incite deep fascination and unease.
Janice Wright Cheney's art practice focuses on the cultural construction and problematization of rats because they transgress spaces designated for human habitation. Cellar explores our belief systems by asking the where we locate the border between human beings and rats.
This project is accompanied by a publication that includes critical essays by the curators of the exhibition and other authors, including curators at the Art Gallery of Nova Scotia.
Organized by the Beaverbrook Art Gallery in partnership with the Art Gallery of Nova Scotia, and with the support of the Canada Council for the Arts, the Province of New Brunswick, the City of Fredericton (Arts, Culture & Heritage Funding Program), and the Province of Nova Scotia.