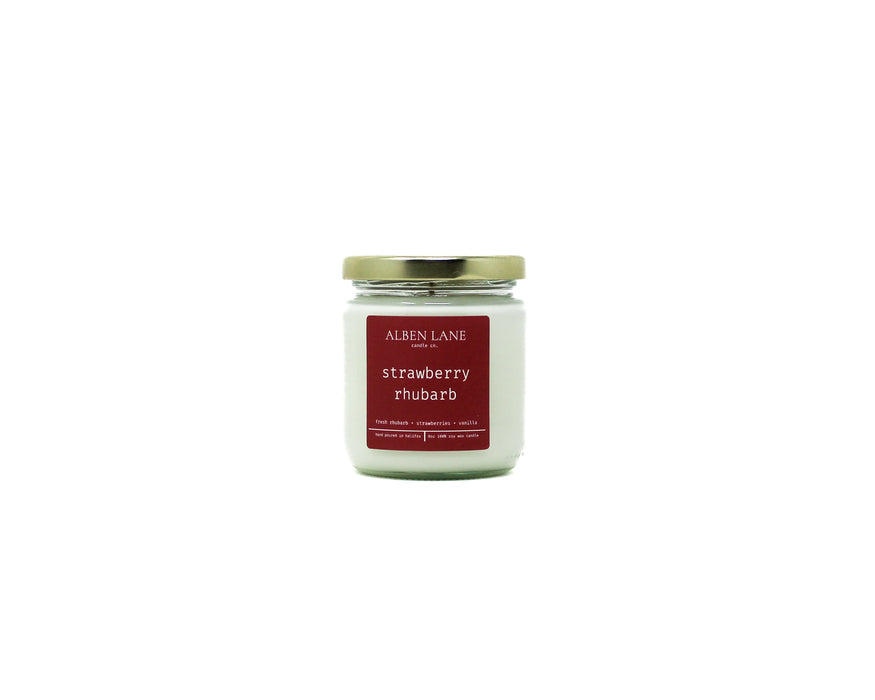 Alben Lane Candle Co.
Original price
$16.00
-
Original price
$16.00
Founded in 2020 by two best friends with a love of candles and a lot of free time, Alben Lane candles are hand-poured in Halifax, Nova Scotia, using 100% soy wax for a fresh and safe burn. Each scent is inspired by a memory from experiences and moments from the East Coast of Canada.
strawberry rhubarb are East Coast staples and we had to turn them into a candle. One of our moms grows rhubarb in her garden each summer, and we've taken the tradition on now, too—in the garden, and in the candle studio.

mango sorbet brings the frozen mango scent to life in one of our summer candles this year!

honeycomb has notes of warm honey and butterscotch, and is a relaxing and surprisingly fresh scent in our newest collection.

vanilla santal is a warm scent with notes of santal, vanilla, and cardamom—making it the perfect light, musky addition to your home

matcha tea and patchouli is this candle has a fresh and earthy scent with notes of matcha tea, citrus, and sweet patchouli.

lemon meringue is our sweetest scent this season and smells just like a freshly baked pie!

bubbly, inspired by our favourite drink,  has notes of champagne, satsuma, and vetiver, making it the perfect fresh and light candle for relaxing with a glass.

meadow is inspired by wildflower fields and spring picnics, Meadow smells like fresh cut grass, bergamot, and newly-picked

the cottage has notes of spruce, musk, amber and vetiver for a cozy and woodsy vibe.

the palm contains frankinsence, myrhh, and oud with a rich, full, fragrance with notes from the scents of Dubai. 

solstice is a classic holiday scent, with notes of citrus, warm spices, evergreen, and a touch of mint.

gingerbread house, with notes of ginger, clove, cinnamon and vanilla, this one will make your home smell like you've just baked a fresh batch of cookies.

spiced citrus has notes of orange zest, ginger, cinnamon and balsam. A warm and cozy scent inspired by time spent with family and friends during the holidays.