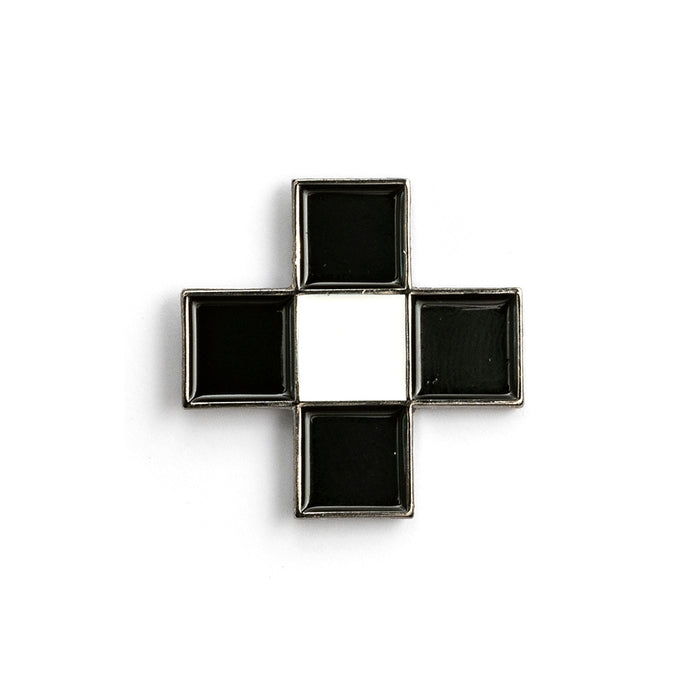 The Jordan Bennett Collection - Pins
Original price
$12.99
-
Original price
$12.99
A limited edition collection designed by artist, Jordan Bennett.
See the exhibition Jordan Bennett: Ketu' elmita'jik at the Art Gallery of Nova Scotia from December 1, 2018 to March 31, 2019.
Winter, Summer, Spring, Fall - Points to a Star
Each of these are for different seasons; Spring, Summer, Fall, and Winter. You can link them together to form the Mi'kmaw 8-point star. These pieces also refer to the chevron design that you see on various Mi'kmaw quill-work pieces.
Epoxy on Metal
Size: 3.5 x 1.5 cm
Double Rainbow, Double Mountain

The visual elements of the stepped motif is often utilized within traditional designs to convey land formations and mountains, while the double rainbow design consists of two arches curving away from one another.
Epoxy on Metal
Size: 3 x 3 cm
Sunset Step

The visual elements within this piece speak to land forms and mountains; the foreground hosts geometric patterns found within Mi'kmaw porcupine quillwork, while the background sky draws inspiration from a sunset color palette.
Epoxy on Metal
Size: 3.25 x 3 cm
Basket Banding

This design is used on the sides of Mi'kmaw spruce root baskets, often along the top edge.
Enamel on Nickel
Size: 2.5 x 2.5 in
Gwitna'q (Go By Canoe) (pronounced G-weed-Nawgh)
This pin is based on the shape of the Mi'kmaw canoe. On the canoe, is the design you would see on Beothuk canoes. This piece talks about home (Ktaqmkuk/Newfoundland).
Enamel on Nickel
Size: 3 x 1 cm
Holding Down

On Mi'kmaw quill baskets, the overlapping "X" configuration is a technique utilizing two quills; an artist crosses them over longer quills to hold them down. Bennett uses this technique throughout his painting practice to "hold down colors," creating a sense of balance and grounding within his lively paintings.
Enamel on Nickel
Size: 3.5 x 3.5 cm