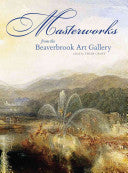 Masterworks from the Beaverbrook Art Gallery
Sold out
Original price
$49.00
-
Original price
$49.00
Along with a complete catalogue of artworks, it features an overview and history of the historic collection, along with curatorial commentary on each work of art by the Beaverbrook Art Gallery's Curator and Deputy Director, and curator of the exhibition, Terry Graff. Further, it includes important essays by five internationally respected art historians, scholars, and curators, Elliot King, James Hamilton, Richard Calvocoressi, Angus Stewart, and Katharine Eustace, that focus on several key works of art.
In addition, Bernard Riordon, Director and CEO of the Beaverbrook Art Gallery, provides a foreword and timely essay documenting the recently resolved legal battle with the Beaverbrook Foundation (UK) over ownership of several works. Elliot King, art historian and leading specialist on the work of Salvador Dalí and curator of the recent exhibition Dalí: The Late Work at the High Museum of Art, examines Dalí's monumental painting Santiago El Grande. James Hamilton, curator and art historian, who has written several books, lectured internationally, and curated several important exhibitions on JMW Turner, examines Turner's Fountain of Indolence.
Richard Calvocoressi, Director of the Henry Moore Foundation and former Director of the Scottish National Gallery of Modern Art in Edinburgh provides special insight into Lucien Freud's Hotel Bedroom. Angus Stewart, independent curator known for his many exhibitions at the Olympia London fine art and antiques fair, including the major 2003 project that marked the centenary of artist Graham Sutherland's birth, examines important Sutherland works, such as Helena Rubinstein, Studies for Churchill, and Portrait of Lord Beaverbrook. Katharine Eustace, art historian and curator, whose publications include Continuity and Change: Twentieth Century Sculpture in the Ashmolean Museum, provides a thoughtful essay on Walter Sickert in relation to the Beaverbrook Art Gallery's Sickert paintings, such as H.M. King Edward VIII.
240 pages, hardcover
75 colour plates and 60 black-and-white photographs
23.7 x 2.4 x 30.5 cm