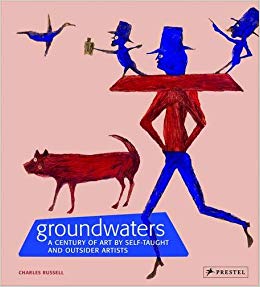 Groundwaters: A Century of Art by Self-Taught And Outsider Artists (hardcover)
Sold out
Original price
$54.00
-
Original price
$54.00
More than 100 years of unschooled artistic genius is gathered in this wide-ranging survey that will elate and inform Outsider Art's rapidly growing audience. Visionary art, art brut, art of the insane, na*ve art, vernacular art, "raw vision"—what do all these and many other categories describe?
An art made outside the boundaries of official culture, first recognized more than a century ago by German psychiatrists who appreciated the profound artistic expression in the work of institutionalized patients. Promoted by brilliant museum curators like Alfred Barr and artists like Jean Dubuffet, such work became a wellspring of modern and contemporary art. This volume brings together works by twelve of the most influential self-taught artists to emerge during the past century.
Each represents a facet of the outsider art phenomenon, from mental patients like Adolf Wölfli and Mart'n Ram'rez, through vernacular masters like Bill Traylor and Thornton Dial, to artists who seem to be in touch with other worlds, such as Madge Gill and Henry Darger. Related artists are featured along with each key figure, allowing a fuller picture to merge. This book presents a narrative of the history of outsider art, clarifies predominant theoretical issues, and draws comparisons with the modernist tradition. It brings into focus the enormous contributions self-taught artists have made to our understanding of creative genius and presents them in a book that will enthrall anyone interested in Outsider Art.
Author: Charles Russell
Prestel, 2011
240 pages, hardcover